Rolstoelbus voor onze 2 kids met sma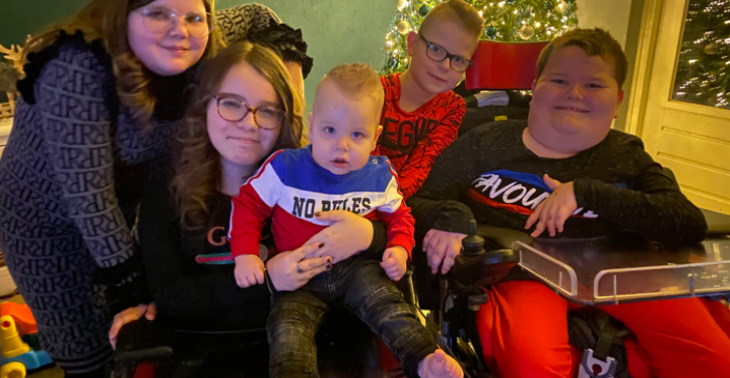 Share this fundraiser via:
Wij, als gezin 5 kinderen waaronder 2 kinderen in een rolstoel , zouden graag een rolstoelbus hebben .
€0
of
€30,000
raised
Be the first to support this fundraiser!
Wij zijn een samengesteld gezin , mijn man heeft twee prachtige kinderen . ik heb twee prachtige kinderen . En samen hebben we een geweldige zoon, onze kers op de taart 14, 12, 11, 7 en 2 jaar.
Helaas hebben twee van onze kinderen de spierziekte Sma. Waardoor ze beide in een elektrische rolstoel zitten en grotendeels afhankelijk van ons zijn . Maar desondanks zijn het normale pubers.
Wij zijn al jaren bezig met een rolstoelbus , maar om een aangepaste bus te kopen voor twee rolstoelen is een hele kostenpost. Ondanks pogingen bij de gemeente en verzekeraars is dit ons niet gelukt .
Graag zouden wij met ons gezin uitstapjes maken , natuurlijk doen we dit wel, maar dit is vooral in de regio. Dit doen we vooral lopend en de taxi. Dit is erg omslachtig omdat we er met de auto achteraan moeten .
De kinderen moeten ook met regelmaat naar het wkz in Utrecht . Ze krijgen daar de ruggenprik, een medicijn die hun ziekte hopelijk stabiel houdt . Ook moeten ze er vaak heen voor onderzoek en behandeling .
Mijn doel van deze actie is een rolstoelbus kunnen kopen , zodat we met ons gezin uitstapjes kunnen doen . Eindelijk een keer op vakantie kunnen , ( want een tillift krijg je niet mee in de auto ) . Gewoon zonder zorgen om vervoer om iets te ondernemen . Ook ziekenhuisbezoeken met eigen vervoer zou zo fijn zijn . Met een taxi zit je altijd vast aan tijden . En tja behandelingen lopen altijd anders .
Kortom , ik gun het mijn kids en dit is het proberen waard 😊
Fundraiser organised by:
Elvira Leloux
Be the first to support this fundraiser!
Show all donations