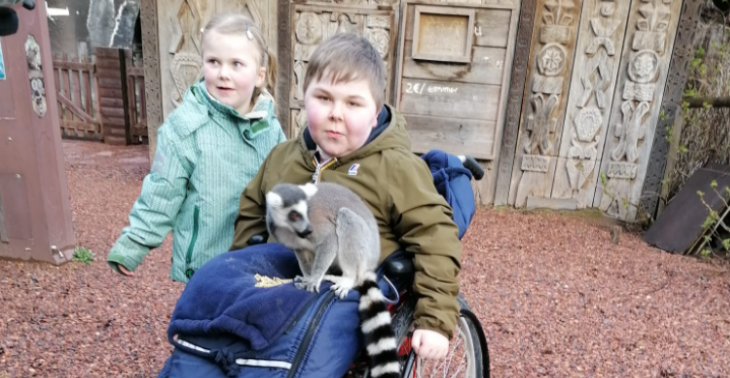 Share this fundraiser via:
Aankoop van rolstoelbus voor de dagelijkse verplaatsingen.
Hello dear people,
I would like to introduce you to the Geuens-Van Ruysseveldt family: Rob 42 years, Charis 40 years, Axl 12 years and Ella 5 years. When Axl was 4 years old, muscle breakdown was detected in his blood, the verdict was: Duchenne's disease. This was the beginning of a long agony, countless hospital visits and physiotherapy. Being allowed to participate in studies for new drugs only to be told that there are too few results and the study will be stopped. After a long, fruitless search for a suitable house where Axl can grow up and be cared for in the best possible way, they decide after several years of searching to renovate their house. Part of the house is being demolished and the construction company promises that the works will be completed within 6 months. Now 2 years later, the house is as good as finished with the necessary extra unforeseen costs. The elevator (because Axl can't do stairs anymore) is finally there. But things have to be broken down again due to the contractor's ignorance. Charis gives up her job 2 years ago to take care of Axl, 5 times back and forth to school is not feasible in combination with a job, because this will quickly become a whole day of support at school. During the break she also has to go to school to put Axl around the toilet and he can't play anymore so she goes to keep him company. To make matters worse, Covid 19 breaks out, Axl and Ella are obliged to stay at home since Axl's lung capacity is no longer optimal and Ella can infect her brother. Mom starts home schooling. After the great cost of the renovations, a van with a lift that can lift Axl's wheelchair will soon be needed and this is also a heavy cost. To date, Axl is being lifted from his wheelchair into the car, but this is becoming too heavy for the parents, as well as dangerous for Axl as he could fall. In order to be able to go out with the family quickly and safely, but also to be able to go to all medical appointments more smoothly, such a large bus is necessary. Every contribution, however small, will help to purchase this bus as soon as possible.
Bonjour chères personnes,
Je voudrais vous présenter la famille Geuens-Van Ruysseveldt : Rob 42 ans, Charis 40 ans, Axl 12 ans et Ella 5 ans. Quand Axl avait 4 ans, une dégradation musculaire a été détectée dans son sang, le verdict a été : la maladie de Duchenne. Ce fut le début d'une longue agonie, d'innombrables visites à l'hôpital et de physiothérapie. Être autorisé à participer à des études sur de nouveaux médicaments pour se faire dire qu'il y a trop peu de résultats et que l'étude sera arrêtée. Après une longue et infructueuse recherche d'une maison convenable où Axl puisse grandir et être soigné de la meilleure façon possible, ils décident après plusieurs années de recherche de rénover leur maison. Une partie de la maison est en cours de démolition et l'entreprise de construction promet que les travaux seront achevés dans les 6 mois. Maintenant, 2 ans plus tard, la maison est presque terminée avec les coûts supplémentaires imprévus nécessaires. L'ascenseur (car Axl ne peut plus monter les escaliers) est enfin là. Mais les choses doivent être décomposées à nouveau en raison de l'ignorance de l'entrepreneur. Charis a quitté son travail il y a 2 ans pour s'occuper d'Axl, 5 allers-retours à l'école n'est pas envisageable en combinaison avec un travail, car cela deviendra vite une journée entière de soutien à l'école. Pendant la pause, elle doit aussi aller à l'école pour mettre Axl autour des toilettes et il ne peut plus jouer alors elle va lui tenir compagnie. Pour ne rien arranger, le Covid 19 éclate, Axl et Ella sont obligés de rester chez eux car la capacité pulmonaire d'Axl n'est plus optimale et Ella peut infecter son frère. Maman commence l'école à la maison. Après le coût élevé des rénovations, une camionnette avec un élévateur pouvant soulever le fauteuil roulant d'Axl sera bientôt nécessaire et cela représente également un coût élevé. À ce jour, Axl est soulevé de son fauteuil roulant dans la voiture, mais cela devient trop lourd pour les parents, ainsi que dangereux pour Axl car il pourrait tomber. Afin de pouvoir sortir en famille rapidement et en toute sécurité, mais aussi de pouvoir se rendre à tous les rendez-vous médicaux de manière plus fluide, un si grand bus est nécessaire. Chaque contribution, même minime, aidera à acheter ce bus le plus tôt possible.
Hallo lieve mensen,
Ik wil jullie voorstellen aan de familie Geuens-Van Ruysseveldt: Rob 43 jaar, Charis 41 jaar, Axl 12 jaar en Ella 6 jaar. Toen Axl 4 jaar was, werd er spierafbraak vastgesteld in zijn bloed, het verdict luidde: De ziekte van Duchenne. Dit werd het begin van een lange lijdensweg, ontelbare ziekenhuisbezoeken en wekelijkse kinesitherapiesessies. Mee mogen doen aan onderzoeken om nieuwe medicijnen te testen 'proefkonijn spelen' om dan te moeten horen dat er te weinig resultaten zijn en het onderzoek wordt stopgezet. Na een lange, vruchteloze zoektocht naar een geschikt huis waar Axl kan opgroeien en op de best mogelijke manier verzorgd kan worden, besluiten ze na enkele jaren zoeken om hun eigen huis te verbouwen.
Een deel van het huis wordt gesloopt en de bouwfirma belooft dat de werken binnen de 6 maanden gedaan zullen zijn. Nu 2 jaar later, is het huis zo goed als afgewerkt met de nodige extra onvoorziene kosten. De lift (want Axl kan geen trappen meer doen) staat er eindelijk. Maar er moeten terug zaken worden afgebroken door de onkunde van de aannemer.
Charis geeft 2 jaar geleden haar werk op om voor Axl te zorgen, 5 keer heen en terug naar school is niet haalbaar in combinatie met een job, want dit zal snel een ganse dag ondersteuning worden op school. Tijdens de pauze moet ze ook naar school om Axl op het toilet te zetten en ook spelen kan hij niet meer dus gaat ze hem gezelschap houden.
Tot overmaat van ramp breekt Covid 19 uit, moeten Axl en Ella verplicht thuis blijven vermits Axl zijn longcapaciteit ook niet meer optimaal is en Ella haar broer kan besmetten. Mama start met thuisonderwijs.
Na de grote kost van de verbouwingen zal al snel een busje nodig zijn met lift die de rolstoel van Axl kan tillen en ook dit is een zware kost. Tot op heden wordt Axl van zijn rolstoel in de auto getild, maar dit is te zwaar aan het worden voor de ouders, alsook gevaarlijk voor Axl omdat hij zo zou kunnen vallen. Om dus vlot en veilig op stap te kunnen gaan met het gezin, maar ook om naar alle medische afspraken vlotter te kunnen gaan is zo'n grote bus noodzakelijk.
Elke bijdrage, hoe klein ook zal hieraan kunnen helpen om deze bus zo snel mogelijk aan te schaffen.
Fundraiser organised by:
Brenda De Groote