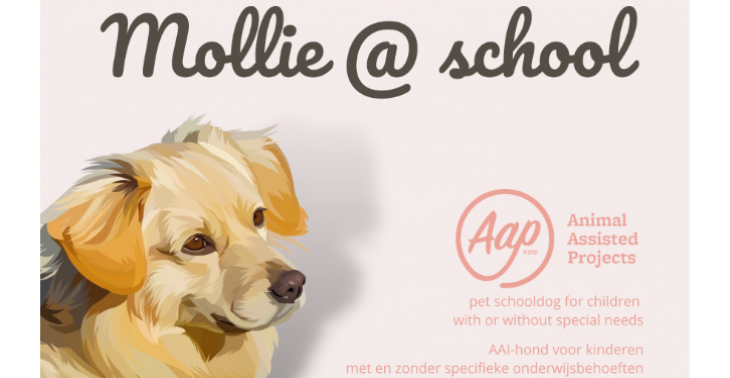 Een hond op school!? Zeker wel! Samen met mijn baasje wil ik een opleiding volgen om een AAI-team te worden.
39

donations
€545
of €1,500 raised
Onze opleiding volgen we bij aapvzw: een organisatie die sterk gelooft in de voordelen van dieren in de zorgsector en het onderwijs.
Als AAI-hond help ik kinderen bij het ontwikkelen van vaardigheden zoals: zelfvertrouwen vergroten, emoties uiten, duidelijk communiceren, samenwerken, lezen …
Bij aapvzw krijgen we een doorgedreven opleiding en worden we persoonlijk begeleid en opgevolgd. De opleiding wordt gegeven door experten in hun vakgebied, maar… dat kost centjes! 1500 euro om precies te zijn.
Wil jij bijdragen aan onze opleiding? Alle bee(s)tjes helpen!
En stel je eens voor dat je later kan denken: 'Dankzij mij kan Mollie naar school!'
____
A dog at school!? Why not!
Together with my humom I would like to become a pet-team. Therefore we need to follow a training which is provided by AAPvzw: an organization that strongly believes in the benefits of animals in health care and education.
As AAP-dog I can help children with their personal growth: building self confidence, expressing their feelings, communication skills, collaboration, reading …
AAPvzw provides a thorough education, guidance and follow-up by specialists in their area of expertise, but … that requires money. 1500 euro more precisely.
Do you want to contribute to our education? Every small gift helps!
And imagine yourself thinking: 'Thanks to me, Mollie is able to go to school!'
Fundraiser organised by:
Mollie Goldenmix
39

donations
€545
of €1,500 raised