Help! Spoedoperatie, nierfalen. LEVENSBEDREIGEND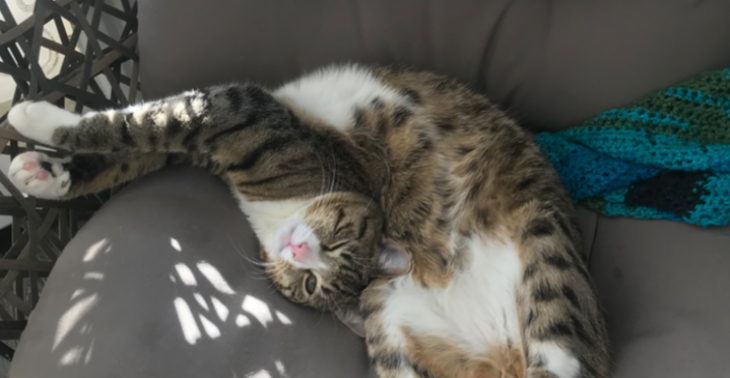 Share this fundraiser via:
€0
of
€841
raised
Be the first to support this fundraiser!
Hallo lieve mensen, Mowgli, 19 april 1 jaar geworden. Op de foto ligt hij nog heerlijk ontspannen op z'n eigen kenmerkende manier, in een soort yoga-houding te genieten. Helaas ligt hij er inmiddels heel anders bij. Ik ben gisteren bij de dierenarts geweest en is zijn urine onderzocht. Er kwam een druppeltje urine vrij tijdens het drukken op zijn blaas, die gespannen was maar niet heel erg vergroot. met waren kristallen en wat bloed in te vinden. Ik heb ander voer en medicatie tegen de ontsteking en pijn meegekregen. De arts twijfelde of t plaskater was en hij opgenomen zou moeten worden om een buisje te plaatsen zodat hij weer zou kunnen plassen en hem door te spoelen ivm niervergiftiging. Omdat er enorme kosten aan verbonden zijn en hij nog gewoon at, dronk en levendig was, hebben we besloten het aan te kijken. Wel moest ik de arts verzekeren dat wanneer het niet goed zou gaan, ik terug moest komen. dat laatste is nu helaas het geval. Sinds gisterenavond eet en drinkt hij niet meer en is traag en sloom. Reageert niet adequaat meer en ligt op een en dezelfde plek. Staat af en toe heel traag op, neemt een plashouding aan maar er komt niets. Hij heeft duidelijk erg veel pijn. nou de vraag: wie kan me helpen bij het betalen van de dure dierenartskosten? Ik maak me enorm veel zorgen maar kan niet naar de dierenarts met hem omdat ik de kosten niet kan betalen. Ik leef van het minimum en heb gisteren al bijna 180 euro moeten lenen. Niet wetende hoe dit terug te betalen. Ik ben echt een beetje in paniek en hoop dat er mensen zijn die kunnen helpen! lieve, bezorgde groet Myrthe
Fundraiser organised by:
Myrthe Premseler
Be the first to support this fundraiser!
Show all donations