Geef deze dames een toekomst.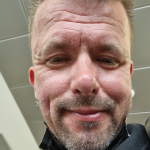 Share this fundraiser via:
Inzamelingsactie voor Kimy en haar dochter.
Hallo allemaal, mijn naam is Colin en ik probeer geld in te zamelen voor mijn vriendin Kimy en haar dochtertje van 4 jaar oud.
Zij woonden in Venezuela, maar zijn een paar jaar geleden naar Colombia gegaan. Om daar bij de zieke moeder van Kimy te kunnen zijn, ze is inmiddels overleden.
Waar ze nu wonen is het niet veilig, haar dochtertje kan niet naar school en speelt niet buiten. Dit is allemaal erg slecht voor haar ontwikkeling, zeker op haar leeftijd.
Omdat een zus van Kimy al in Nederland woont, wil zij met haar dochtertje ook graag naar Nederland, zodat haar dochtertje naar school kan en zij hier een toekomst kunnen opbouwen. Maar, Kimy's paspoort is inmiddels verlopen, de verlenging daarvan kost heel veel tijd en loopt vast op de torenhoge kosten die daarvoor moeten worden afgedragen. Een bedrag, dat Kimy niet kan sparen van haar inkomen uit werk.
Misschien kan ik met deze inzamelingsactie in ieder geval een groot deel van het benodigde bedrag voor Kimy bij elkaar brengen, om haar daarmee een zorgeloze toekomst voor haar en haar kind te bieden. Als u een bedrag kunt missen, dan zou dat fantastisch zijn, zelfs met een eurootje of een tientje, kan er misschien al een mooi bedrag uitrollen. Daarvoor bij voorbaat heel veel dank.
Hi everyone, my name is Colin and I am trying to raise money for my friend Kimy and her 4 year old daughter.
They lived in Venezuela, but went to Colombia a few years ago. To be there with Kimy's sick mother, she has since passed away.
It is not safe where they live now, her daughter cannot go to school and does not play outside. This is all very bad for her development, especially at her age.
Because one of Kimy's sisters already lives in the Netherlands, she would also like to go to the Netherlands with her daughter, so that her daughter can go to school and they can build a future here. However, Kimy's passport has now expired, renewing it takes a lot of time and gets stuck at the sky-high costs that have to be paid for it. An amount that Kimy cannot save from her income from work.
Perhaps with this fundraiser I can at least raise a large part of the amount needed for Kimy, so that she can offer her a carefree future for her and her child. If you can spare an amount, that would be fantastic, even with a euro or a few, a nice amount can already be rolled out. Many thanks in advance for that.
Fundraiser organised by:

Colin Nouws