Een cadeau voor mijn vriendin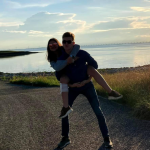 Share this fundraiser via:
Help me mee om een pc te kopen voor mijn vriendin!
€0
of
€2,500
raised
Be the first to support this fundraiser!
Beste
Mijn vriendin en ik zijn nu al een dikke 2 jaar samen (bijna 3) en haar 21ste verjaardag komt er stillaan aan.
Dus ik had dolgraag voor haar een groot cadeau willen kopen, een cadeau dat haar voor altijd bij zou blijven…namelijk een gaming pc.
Mijn vriendin, Lore, is een enorme fan van games en twitch streamers. Helaas heeft ze zelf (en haar ouders) het geld er niet voor om zoiets te kunnen betalen. Wat me pijn doet aan het hart, want ze verlangt nu al een dikke 5 jaar naar deze pc.
Klopt, ze zou studentenjobs kunnen doen…maar dat doet ze al, om haar ouders te ondersteunen met de financiën, ze hebben het namelijk niet breed.
Daarom wil ik hulp aan jullie vragen die me mee willen helpen om dit idee te veroorloven. Ik denk dat de gamers hier onder ons maar al te goed weten hoe het voelt om te verlangen naar zo een prachtige pc. Dus alsjeblieft….help me dit mee waar te maken voor haar. Ik zou het fantastisch vinden om dit voor haar te kunnen kopen.
Natuurlijk heb ik begrip voor zij die vinden dat ik het wat rustiger aan moet doen…Maar dit is een doel dat ik voor ogen heb, en ik wil er alles aan doen om dit te bereiken.
Alvast bedankt…voor eender welk.
Fundraiser organised by:

Giliam Goossens
Be the first to support this fundraiser!
Show all donations