Service dog for autism for Lyra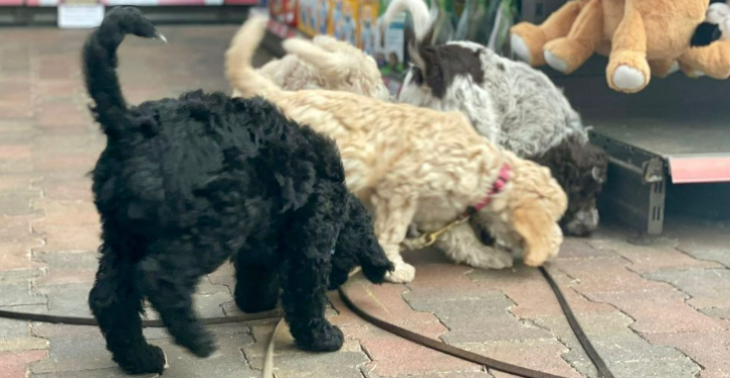 Our daughter Lyra has autism and is in need of a service dog to help her navigate life. Please help her!
€ 0
van
€ 4.000
ingezameld

Wees de eerste om deze actie te steunen!
Who wants to help our daughter Lyra with the help of this crowdfunding? Lyra has received a lot of psychological help for her autism, anxiety and depression, but unfortunately nothing has helped so far and the search has been going on for a long time. Because of her love for animals, we would like to give her this specially trained dog that can help her in her daily struggles.
Because of her autism, Lyra is chronically tired and has been struggling at school, not being able to study or go to school fulltime like her friends. Getting a degree has become impossible. Lyra, despairing about the future, became depressed. Last year we found a coach suggested equestrian coaching. Lyra finally had some positive experiences, from enjoying playing soccer with a horse, and made a connection with a horse that usually avoids humans. Unfortunately, coaching was often canceled and the horse fell ill. Her special contact with animals gave us the idea of coaching with a dog. We have found a coach who is a dog trainer and counselor with experience with autism. The coaching focuses on the cooperation of humans and animals: the person who needs help and the dog are coached to form a team. When we talked about what this looks like during a counseling conversation, Lyra said that it reminded her of her experiences with the equestrian coaching.
With the help of the coach we found a very sweet Romadoodle male of almost five months old. For those interested, he is a cross breed between a Lagotto Romagnolo, a Large Poodle and a Golden Retriever. Because he grew up at the Hero Foundation, he has already received training. This of course in a playful way, because the dogs are still very young. For example, the dogs were introduced at a very young age to the smell that people carry with them when they are stressed, or when a person with diabetes had hypo or the smell people carry when having an epileptic episode. Immediately afterwards they have been given mother's milk, creating a very positive association that allows the dog to learn to act when it smells the scent later in training. The training will be continued by Lyra's coach. The goal is for Lyra to be helped by the dog to get out of bed, to exercise, to get motivated, to get more direction and structure in her day, which is essential for her recovery. In addition, the dog can be a mirror to her that senses her stress and can warn her to slow down. When having too much stress, Lyra suffers from a shutdown. She turns completely inward, she can't process words being spoken to her and she can no longer speak. The dog can help get her out of this state again faster. Furthermore, the dog offers emotional support or distraction when she feels alone, anxious, depressed or unsafe.
Unfortunately, an official assistance dog is very expensive in The Netherlands. We are very happy that some financial aid for coaching of my daughter is an option. The purchase of the dog is especially expensive, because they have been specially bred to be trained as service dogs. The search for a suitable dog and additional costs related to the coaching that are covered by the financial aid are also included. It amounts to €4,000. Would you please want to help Lyra with an service dog? We are very grateful for any amount, big or small, or sharing this question on your social media!
Actie georganiseerd door:
Mirjam Snel
€ 0
van
€ 4.000
ingezameld

Wees de eerste om deze actie te steunen!
Toon alle donaties
Website widget
Voeg een donatieknop van deze actie toe aan een website of blog