Steunactie operatie tumor babyalpaca Atiq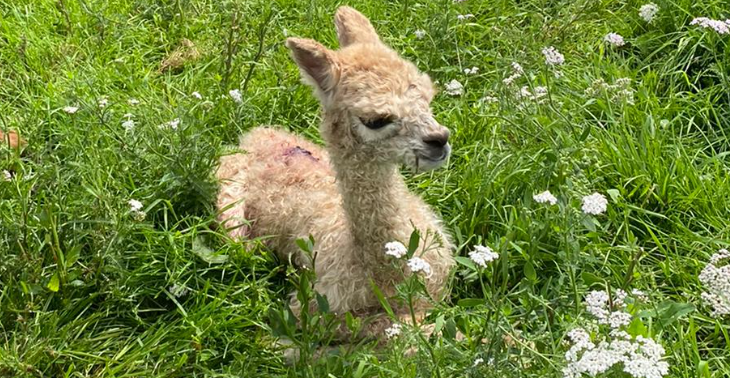 Share this fundraiser via:
Atiq is een alpacacria geboren op vrijdag 9 juli bij Alpaca Hoogstraten met een zeldzame tumor op zijn ruggetje.
Atiq is een alpacacria geboren op vrijdag 9 juli om 14u bij Alpaca Hoogstraten. Op het eerste zicht leek Atiq in topconditie, tot we een wonde ontdekten op zijn ruggetje. Na veel rondbellen naar ervaren alpacahouders, -fokkers en veeartsen zijn we 's avonds toch met Atiq en mama Lumi naar de kliniek in Merelbeke gereden. Die staat gekend als de meest gespecialiseerde in België voor onder andere alpaca's. Deze soort wonde hadden ze daar nog nooit gezien, ook voor hen was het dus aanvankelijk een groot vraagteken wat er aan de hand was. Lumi en Atiq bleven daar ter observatie totdat de chirurg ernaar zou kijken. Zaterdag wist die te vertellen dat het om een tumor gaat die zich op de huid bevindt, maar ook inwendig. Foto's zullen aanstaande maandag aantonen of het al dan niet is uitgezaaid.
Maandag gaan ze onze kleine man opereren en nog extra foto's nemen om te kijken of er op andere plaatsen iets zichtbaar is.
Dat alles gaat minimaal 1000 euro kosten en dan weten we nog niet wat de extra kosten zijn en/of hij het gaat halen.
We starten een crowdfunding omdat we van redelijk wat mensen de vraag hebben gehad of ze ons en vooral onze kleine Atiq kunnen steunen en omdat het over redelijk wat centjes gaat.
Onze baby doet het verder heel goed. Hij lijkt zelf weinig last te hebben van de wonde en drinkt super goed bij de mama, daarom willen we voor hem en zijn leven vechten.
Een hartelijke dankjewel alvast voor jullie steun!
Atiq en mama Lumi
Ken en Karen
Team Alpaca Hoogstraten
Fundraiser organised by:
Ken Herrijgers