Letsel en schade na aanrijding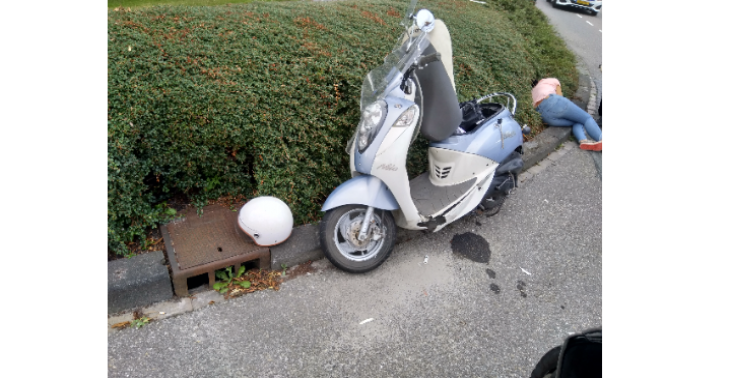 Share this fundraiser via:
Zorgkosten + Nieuwe Scooter betalen
€0
raised
Be the first to support this fundraiser!
Letsel en schade na aanrijding
Ernstig ongeval!
Op woensdag ochtend 4 Augustus was ik (vrouw 29 jaar) niets vermoedend op weg naar mijn ouders zoals ik elke dag doe. Maar deze ochtend was niet zoals elke dag. Bij het afslaan waarbij ik netjes mij aan de regels hield en mijn knipperlicht aan deed zoals ik altijd doe.... Werd ik ineens BOEM! Geschept door de auto die achter mij reed en mij waarschijnlijk niet goed heeft gezien. Daar lag ik dan. Toen nog niet wetende dat ik een klaplong had en 7 gebroken ribben te ademen voor mijn leven. Ik heb mij nog nooit zo angstig gevoeld. Gelukkig waren er omstanders die de ambulancedienst hebben gebeld. Gelukkig maar want ik had op dat moment echt het idee dat ik zou gaan stikken. De vrouw van 82 jaar was dus keihard op mij in gereden. Ik werd inmiddels afgevoerd naar het ziekenhuis waar ik flink onder handen werd genomen. Dacht ik alles gehad te hebben... Mocht er ook nog een drain in de kant waar me ribben gebroken waren. Dit voor de klaplong die ik had opgelopen. Na dit overleefd te hebben komt het ergste nog. De psychische klap. Ik ben na 4 dagen ontslagen uit het ziekenhuis maar nog lang niet hersteld. Slapen lukt me bijna niet. Nu het ergste nog.. nu krijg ik waarschijnlijk ook nog eens niets vergoed van de verzekering omdat ik niet kan bewijzen dat ik op tijd mijn knipper licht aan heb gedaan. Dit meen je niet!? Ik word aangereden, mijn zorgkosten moet ik betalen, mijn telefoon kapot, mijn scooter is total los verklaard en ik zit hier met super veel pijn en ik mag het allemaal ook nog eens zelf gaan betalen? Dat gaat mij niet lukken. Een nieuwe scooter kan ik niet betalen en de zorgkosten alleen al is een klap in mijn gezicht. Ik leef van een bijstandsuitkering vanwege psychische problemen dus hoe ga ik dit oplossen? Kunt u mij misschien een klein beetje helpen?
Graag zou ik mijn eigen risico willen betalen en een nieuwe scooter willen omdat het mijn enige vervoersmiddel was.
iedere maand is het voor mij al lastig om de eindjes aan elkaar te knopen en nu ook nog eens dit. Ik ben echt ten einde raad!
Misschien dat ik eindelijk wat kan slapen als ik hier wat minder zorgen over heb. U wordt alvast super bedankt!
Fundraiser organised by:
Aaltje Hilverda
Be the first to support this fundraiser!
Show all donations