Help Afghan Families & Children In Crisis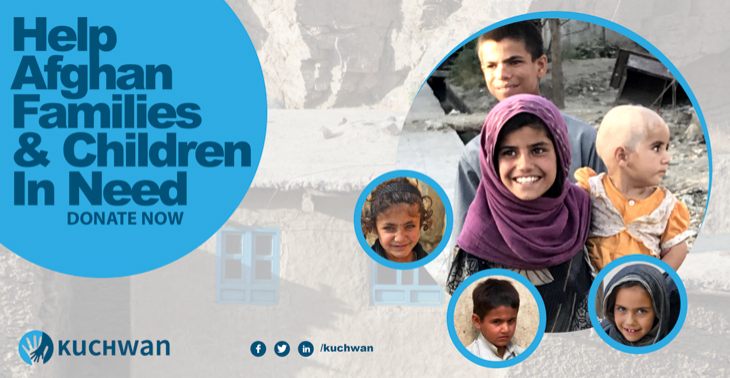 Share this fundraiser via:
Millions of families in Afghanistan are facing extreme hunger, Kuchwan helps at least 200 families to survive this winter.
Millionen von Familien in Afghanistan sind von extremem Hunger betroffen, und die meisten von ihnen werden diesen Winter möglicherweise nicht überleben. Laut IPC (Integrated Food Security Phase Classification) befinden sich schätzungsweise 22,8 Millionen Menschen in Afghanistan in einer Krise, darunter 14 Millionen Kinder. Erfahren Sie hier mehr: https://www.ipcinfo.org/fileadmin/user_upload/ipcinfo/docs/IPC_Afghanistan_AcuteFoodInsec_2021Oct2022Mar_report.pdf
Mangelnde sozioökonomische und politische Instabilität, jahrzehntelange bewaffnete Konflikte, Vertreibung und wiederkehrende Naturkatastrophen tragen zur Verschärfung der humanitären Krise in Afghanistan bei. Wir brauchen Ihre Hilfe und Unterstützung, um den Menschen, die unter diesen schwierigen Umständen leben, zu helfen.
Unser Ziel ist es, durch diese Spendenaktion mindestens 200 bedürftigen Familien zu helfen. Mit 100 EUR können wir jede Familie mit einem Lebensmittelpaket für drei Monate versorgen. Das Lebensmittelpaket enthält Speiseöl, Reis, Weizenmehl, Hülsenfrüchte und Zucker. Außerdem wollen wir Brennholz und warme Kleidung bereitstellen, um die Menschen vor der extremen Winterkälte zu schützen.
Matin Ghafoori ist ein berühmter afghanischer Komiker, der mit seiner Frau und zwei Kindern in Kabul lebt. Seine Situation und die seiner Familie hat sich in den letzten Jahren drastisch verändert, was eine direkte Folge der Umstände ist. Er kämpft mit seiner finanziellen Situation und hat mehrere gesundheitliche und psychische Probleme. Durch den Verkauf von Linsen versucht er, seine Familie mit dem Lebensnotwendigen zu versorgen, obwohl es für ihn aufgrund der Kälte im Winter fast unmöglich ist, Linsen auf der Straße zu verkaufen. Und wir haben Hunderte von Familien identifiziert, die in Gefahr sind.
Kuchwan bietet den von humanitären Krisen betroffenen Menschen Soforthilfe und Wiederaufbauhilfe. Wir versorgen Familien mit Bargeld, Lebensmitteln und anderen lebensnotwendigen Gütern, bieten Bildungsmaßnahmen in ländlichen Gebieten an und helfen den Menschen bei der Arbeitssuche. Darüber hinaus arbeiten wir mit lokalen Gemeinschaften zusammen, um ihre eigenen Entwicklungsprojekte zu ermitteln, zu planen und zu verwalten.
Sie können uns dabei helfen, die in diesem Winter so dringend benötigten Ressourcen bereitzustellen.
Übersetzt mit www.DeepL.com/Translator (kostenlose Version)
Millions of families in Afghanistan are facing extreme hunger, and most of them may not survive this winter. According to IPC (Integrated Food Security Phase Classification), 22.8 million people in Afghanistan are estimated to be in crisis including 14 million children. Learn more here: https://www.ipcinfo.org/fileadmin/user_upload/ipcinfo/docs/IPC_Afghanistan_AcuteFoodInsec_2021Oct2022Mar_report.pdf
Failing socio-economic and political instability, decades of armed conflict, displacement, and recurring natural disasters contribute to deteriorating humanitarian crises in Afghanistan. We need your help and support to provide aid to those living in these difficult circumstances.
Our mission is to help at least 200 families in need through this fundraiser. With 100 EUR, we can provide each family with a package of food for three months. The food package includes cooking oil, rice, wheat flour, legumes, and sugar. Additionally, we aim to provide firewood and warm clothing to protect people from the extreme winter cold.
Matin Ghafoori is a famous Afghan comedian who lives with his wife and two kids in Kabul. His and his family's situation has drastically changed in the last few years as a direct consequence of the circumstances. He struggles with his financial situation and has multiple health and mental problems. By selling lentils, he tries to provide basic life necessities for his family, although due to cold during the winter it is almost impossible for him to sell lentils on the street. And, we have identified hundreds of likely families.
Kuchwan provides relief and recovery assistance to those affected by humanitarian crises. We provide families with cash assistance, food, and other basic necessities, educational training in rural areas, as well as help people find employment. We also work with local communities to identify, plan, and manage their own development projects.
You can help us with providing resources so desperately needed during this winter.
Miljoenen gezinnen in Afghanistan hebben te kampen met extreme honger, en de meesten van hen zullen deze winter wellicht niet overleven. Volgens de IPC (Integrated Food Security Phase Classification) verkeren naar schatting 22,8 miljoen mensen in Afghanistan in een crisis, waaronder 14 miljoen kinderen. Meer informatie vindt u hier: https://www.ipcinfo.org/fileadmin/user_upload/ipcinfo/docs/IPC_Afghanistan_AcuteFoodInsec_2021Oct2022Mar_report.pdf
De falende sociaaleconomische en politieke instabiliteit, decennialange gewapende conflicten, ontheemding en steeds terugkerende natuurrampen dragen bij tot de verslechtering van de humanitaire crises in Afghanistan. We hebben uw hulp en steun nodig om hulp te bieden aan degenen die in deze moeilijke omstandigheden leven.
Onze missie is om minstens 200 gezinnen in nood te helpen via deze inzamelingsactie. Met 100 euro kunnen we elk gezin een voedselpakket voor drie maanden geven. Het voedselpakket bestaat uit bakolie, rijst, tarwemeel, peulvruchten en suiker. Daarnaast willen we brandhout en warme kleding leveren om de mensen te beschermen tegen de extreme winterkou.
Matin Ghafoori is een beroemde Afghaanse komiek die met zijn vrouw en twee kinderen in Kabul woont. De situatie van hem en zijn gezin is de laatste jaren drastisch veranderd als direct gevolg van de omstandigheden. Hij worstelt met zijn financiële situatie en heeft meerdere gezondheids- en mentale problemen. Door linzen te verkopen probeert hij in de eerste levensbehoeften van zijn gezin te voorzien, hoewel het door de kou in de winter voor hem bijna onmogelijk is om linzen op straat te verkopen. En we hebben honderden kansrijke gezinnen geïdentificeerd.
Kuchwan biedt hulp en herstel aan mensen die getroffen zijn door humanitaire crises. We geven gezinnen geld, voedsel en andere eerste levensbehoeften, geven onderwijs op het platteland en helpen mensen werk te vinden. We werken ook samen met lokale gemeenschappen om hun eigen ontwikkelingsprojecten te identificeren, plannen en beheren.
U kunt ons helpen met het verstrekken van middelen die deze winter zo hard nodig zijn.
Vertaald met www.DeepL.com/Translator (gratis versie)
Fundraiser organised for:

Kuchwan
Fundraiser organised by:
Musa Nader