Geldinzameling Demo Gent Zondag 10/4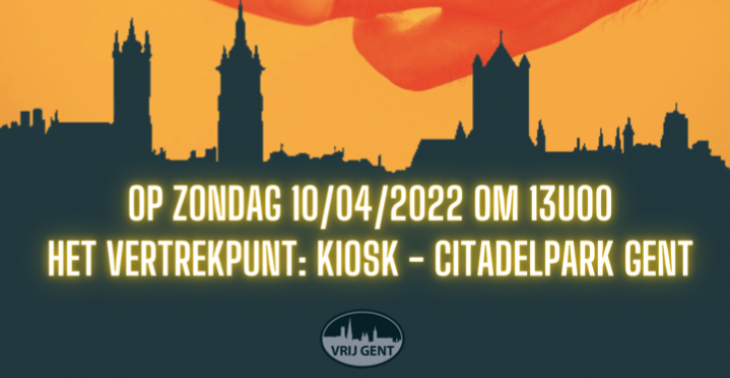 Share this fundraiser via:
Om de apparatuur(boxen,..), podium voor de speeches, hesjes, promotiemateriaal, affiches, flyers etc. te kunnen bekostigen.
Een complete verandering gaan we momenteel niet teweegbrengen door één manifestatie of dergelijke. De verandering waar we op zoek naar zijn is er eentje van lange adem. Deze is zeker en vast alle moeite waard. Door onze energie hierin te steken, gaan er dingen bewegen. Worden er dingen groter. Gaan we mensen aanwakkeren met deze bepaalde energie..
Er zal niet gestopt worden voordat er een totale verandering is. Een totaal nieuwe soort van samenleving. Zolang ons collectief niet voldoende wakker is, zal deze er ook nooit klaar voor zijn. Laat ons daarvoor bij deze nog een keertje massaal samenkomen in vrede en met liefde voor onze naasten. Laat ons eens tonen dat wij Belgen ook kunnen manifesteren als één geheel. Zonder dat er hiervoor geweld of haat aan te pas moet komen. Want dat is iets wat we tot op heden nog niet hebben kunnen doen.
Dit is in het kort, de essentie waarom we zondag 10 april samen willen komen.
We willen laten tonen dat we er nog zijn. Dat we nog steeds wakker zijn. Het vuur in onszelf is immers aangewakkerd en het is een vlammetje dat niet te doven valt!
Deel bij deze dit evenement alstublieft. Niet alleen voor ons, jezelf of je naasten. Maar ook voor onze toekomst als geheel. Onze toekomst voor onze kinderen. De toekomst van moeder aarde. De toekomst van al het leven op aarde en daarachter.
Laat dit een dag zijn waar we ons nog eens goed gaan kunnen laten horen en tonen. Een dag van verbinding met elkaar. Een leuke dag met om te beginnen een legendarische gezamenlijke act, een zeer mooie wandeling doorheen het hartje van Gent, speeches van kleppers van mensen en wie weet (Als het meezit.) nog een ietsiepietsie beetje live muziek. 😉
Het totalitair regime houdt ons in angst. Van de ene angst naar de andere. Er wordt een constante methodiek toegepast van verdeel en heers. Er worden mensen tegen elkaar opgezet waardoor collectieve eenheid verloren gaat. Dit laat een sterke indruk na op ons collectief.
Het recht van vrije meningsuiting wordt gecensureerd. Dit zorgt ervoor dat er bepaalde bubbels ontstaan. Corona was en is hier eigenlijk nog steeds het perfecte voorbeeld van. Ik verwijs bij deze graag naar, een inmiddels bekend gezegde van Beatrice Hall: "Ik keur af wat u zegt, maar ik zal uw recht om het te zeggen tot de dood verdedigen".
The Great Reset (Agenda 2030) van de "elite"..
-Klimaatagenda: Bepaalde veehouders die moeten sluiten, omvormen van bouwgronden in bosgrond of natuurgebied,..
-De agenda van de cyberaanvallen
-Populatiereductie
-Transhumanisme
-Digitale munt
-Digitale identiteit
-Social credit system
-Inflatie door hoofdzakelijk het bijdrukken van geld
-Manipulatie van prijzen (Brandstoffen, grondstoffen, eten,..)
-Lonen die niet meegaan
-…
Voor alles zonder hart..
Voor alles dat NIET KLOPT!
"You will own nothing and be happy."
Zoveel punten, zoveel om aan te halen..
Teveel om even kwijt te kunnen! 😅
Blijf in liefde lieve vrienden!
Laat ons de collectieve energie eens wat opkrikken!

Tot snel! 🙂
🙏✌️❤️
Fundraiser organised by:
Jelle Vervaecke