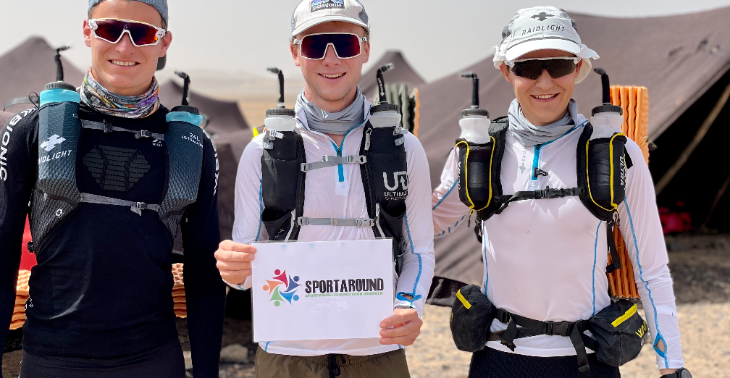 Share this fundraiser via:
We ran the Marathon des Sables for Sportaround, an organisation that organises sport courses and events for less fortunate.
After having taken on some challenges, Nicolas, Andreas and Olivier decided that it was time for the next adventure. In April we ran the Marathon des Sables. During the long trainings and the race, we realized sports was way more than being on the move. Sports have been a big part of our upbringing and we believe stimulates physical and mental well-being. It also provides children with a sense of belonging, a way to escape problems at home, or to find a new passion.
This is why we wanted to take this opportunity to collect money for Sportaround, an organization from Ghent that organizes sports courses and events for less fortunate children.
By contributing to Sportaround, you will enable the organization to create sports events. Besides, Sportaround also lowers the threshold between children and sports clubs by helping children to find the right sports club, to register, and offering guidance. Sportaround is active in 4 different neighbourhoods in Ghent where children can play and practice sports for free. This gives children a weekly opportunity to relax, exercise and learn a new sport. Thanks to the familiar environment, the fixed instructor, and the low cost, the lessons are very accessible.
We believe this organisation helps children to escape troubles, get inspired, make new friends and connections and get outside in nature.
Funds will in no case be used to cover any part of our entrance fee. All funds will go directly to SportAround.
Andreas, Nicolas & Olivier
Fundraiser organised by:
Olivier De Clercq