The organiser has inactivated donating. Donating is no longer possible.
Help mee het WEF te exposen!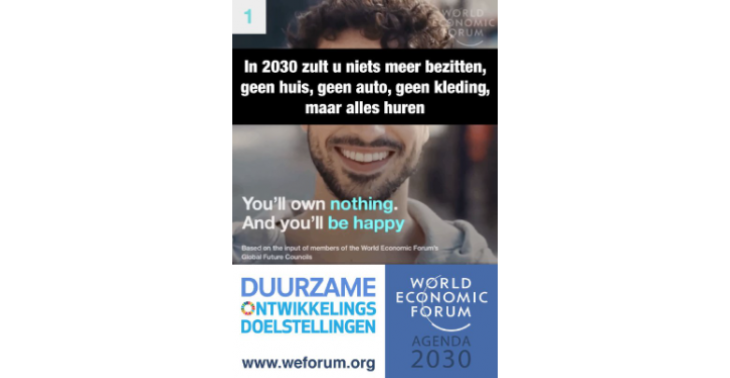 Share this fundraiser via:
Help ons transparantie te geven over de ware doelen van de SDG's
€0
of
€250
raised

Donate Now
It is not possible to donate anymore
Wow! Zo snel al het streefbedrag ingezameld! Wij laten hem nog even open zodat we evt ook nog wat stickers kunnen drukken om uit te delen 👌
Tot zo ver enorm bedankt! Met zn allen krijgen wij het WEF onder controle 💪
Zoals u misschien wel weet is vrijdag 23 september 2022 overal de Global Goals vlag uitgehangen bij 850 gemeentes.
Veel mensen hebben geen idee wat dit inhoud, laat staan dat dit al sinds 2015 uitgerold wordt (Agenda 2030) en dat dit de grote oorzaak is van de wereldwijde ellende die nu keihard op ons af komt.
Het wordt tijd dat er nu 1 boodschap uitgedragen wordt: namelijk WEG MET HET WEF EN AGENDA 2030

Daarom willen wij 500 posters laten printen en gaan verspreiden. Op de posters staan beelden uit de video's die het WEF zelf op hun website heeft staan, met daaroverheen de uitleg.
Wanneer de mensen regelmatig deze posters tegenkomen zullen ze eindelijk de link tussen WEF, GLOBAL GOALS en AGENDA 2030 gaan leggen en wat de WERKELIJKE doelen van het WEF zijn inplaats van al die vrolijke kleurtjes en mooi geformuleerde doelen waar je eigenlijk niet tegen zou kunnen zijn.
Help mee om het WEF te exposen!'


Fundraiser organised by:
United Hands

Donate Now
It is not possible to donate anymore
Show all donations