De Ver-assing: help 8 jonge theatermakers op weg!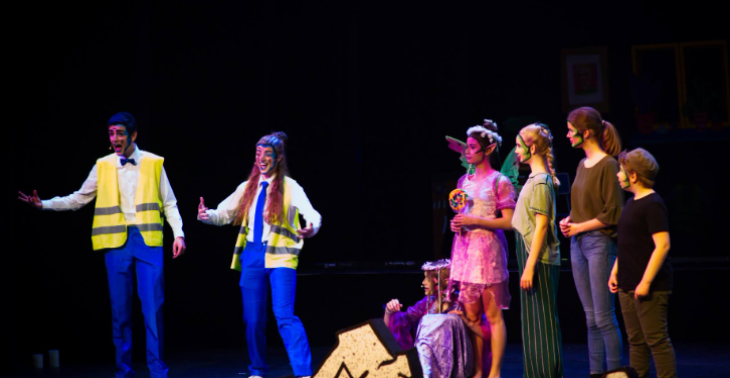 Share this fundraiser via:
Een leuke musical en een ideale kans om reclame te maken!
Hoi! Als groep van 8 zeer gemotiveerde examenleerlingen van het Greijdanus College Zwolle hopen wij op 8 februari 2023 ons profielwerkstuk te presenteren; we maken een theaterstuk! Wij zijn erg enthousiast en werken bijna elke dag om van dit project een succes te maken. Hier hebben we echter wel sponsors bij nodig, de kaartverkoop alleen is namelijk niet genoeg. Wij zoeken mensen die ons hierbij willen helpen. Ook voor bedrijven is dit de ideale kans, want wij bieden de mogelijkheid om voor een klein bedrag reclame te maken bij veel mensen. Bij een bedrag van €50 of hoger verschijnt er namelijk een logo/tekst van het bedrijf op posters rond de zaal, wordt deze omgeroepen bij de voorstelling, verschijnt deze op onze sociale media-accounts en die van het stuk (bij elkaar meer dan 2000 volgers), en verschijnt er een advertentie in het informatieboekje dat alle bezoekers zullen zien. Dit is dus een onmisbare kans omdat het positieve publiciteit biedt voor een lagere prijs dan andere projecten. Wij hopen u met ons verhaal ook enthousiast te maken, elke cent telt!
Onze voorstelling is voor alle leeftijden en draait om fantasie. Het vertelt het verhaal van twee helden in hun zoektocht naar 'de vier stenen' om de orde in de vier rijken te herstellen. Onderweg worden zij geholpen of tegengewerkt door allerlei personen en zaken. Zullen Heijn en Coen hierin slagen? Om de rollen te spelen hebben wij andere leerlingen van onze school auditie laten doen en hebben nu een gezellige en gemotiveerde groep! Onderling hebben we ook veel taken verdeeld. Zo doen sommigen de dans, anderen zang, organisatie, vormgeving, financiën, regie, muziek, en ga zo maar door! Op deze manier hopen wij er een gaaf stuk van te maken. Deze voeren wij op in één van de aula's op onze school, door deze om te toveren in een theaterzaal. De kaartverkoop is al gestart en zeker 150-200 mensen komen kijken!
Wij zijn Ilse, Geanne, Lise, Emma, Levi, Marijne, Joëlle en Cas en doen dit jaar examen op HAVO of VWO. Naar aanleiding van de schoolmusical waar de meesten van ons vorig jaar aan mee hebben gedaan kwamen wij op het idee om als profielwerkstuk een theatervoorstelling te maken. Wij houden namelijk allemaal erg van theater/musicals en ons leek dit de ideale kans om daar meer over te leren en er veel mee bezig te zijn! U kunt in contact met ons komen via: 20336@greijdanus.nl , alvast bedankt en groeten van ons allemaal!
PS: als u contact met ons opgenomen had via de knop met 'contact', kunt u ons dan opnieuw een mail sturen, maar dan door het bovenstaande mailadres te kopiëren? Met de knop moesten de berichten namelijk eerst langs de website voor goed- of afkeuring en dit is niet gebeurd waardoor wij ze niet konden ontvangen.
Fundraiser organised by:
Cas Nijeboer